15 août 2008
It is mayhem right now but I wanted to quickly drop by to say that I am currently in Chicago for one of my very good friend's wedding. I am excited beyond words and cannot wait. If I am not too emotional and happy (read tipsy), I will take pictures of my bridemaid's dress and much more.
Speaking of weddings, my sister over at Wedding By Design is giving tips on how to use African bangles as napkins rings.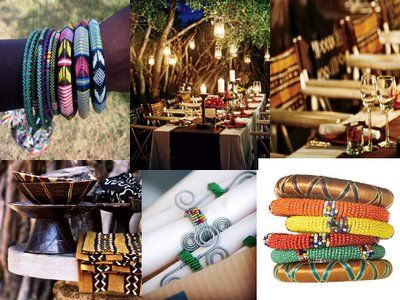 To see more and get more tips, click here and tell her big sis says what za!
09 août 2008
Solange Knowles really loves her checkered pumps. Here she is sporting them first in december 2007 and then at the house of blues this past week.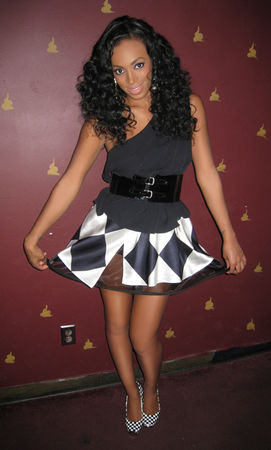 Sad news, the original KING of comedy Bernie Mac passed away this morning. R.I.P. Bernie you will be missed.
21 juillet 2008
How are my lovely ladies doing? Me? I am GOOD! Never been better. Linda, on the other hand, is not feeling too great so I am sending her some love all the way to Côte d'Ivoire where she currently is. Feel better sweetheart.
It's monday and before we go on with yet another work week, let me share with you my two sweet looks of the past one:
Ashanti looking great in a Balenciaga dress and obvious (the red soles) Christian Louboutin heels. I really like the dress.
Solange mixed and matched bright accessories. I know most people don't like "experimenting" this way but I love it.
My salty look of the week goes to Kelis. I usually like Kelis bold sense of style but this time around, something ain't right. Or I should say a lot of things are not right: the hair, the ill-fitting clothes, the boots...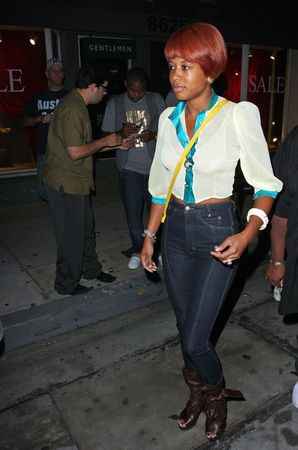 Oh! I almost forgot: her bright yellow bag. This is a blatant case of "mix and match" gone wrong.
...We still love you Kelis.
---
Now that we are done with the sweet or salty category, I would like to share my it clutch of the moment: vintage magazine clutch. Linda has had hers for years and I am looking for one as well. I however favor a neutral one over a bright one. Patricia Field has made great -bright-ones which are currently available at $80. A nice alternative to the pricing ones you might find in vintage stores.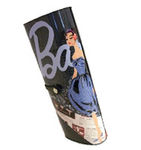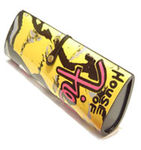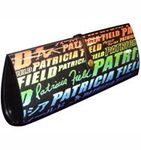 To see more, click here
Sold out vintage-inspired Jimmy Choo clutch: $595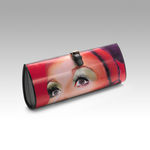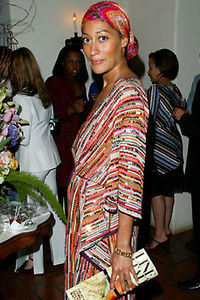 Tracy Ellis Ross Rihanna
Have an excellent day.
18 juillet 2008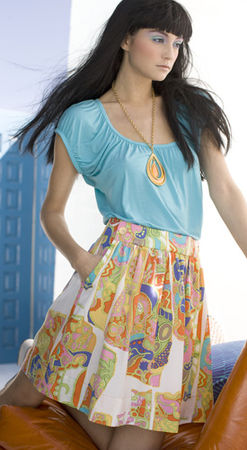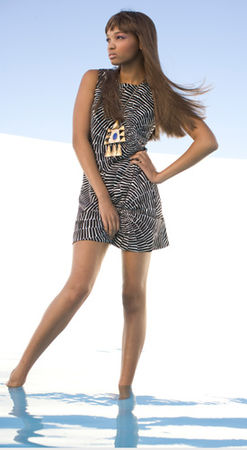 Born in California and raised there and in the state of Washington, her mother taught her to sew when Turk was just 11-years-old. She studied fashion design at the University of Washington and took her first job with the Seattle-based sportswear manufacturer, Britannia Jeans. Turk's next stop was Los Angeles where she waded into a sea of 30 prints per season designing surfwear for Ocean Pacific. Other jobs designing mostly juniors followed.
With design and production headquartered in Alhambra, California, Trina Turk's sales topped 16 million in 2001. A year later the company opened a boutique in Palm Springs, another in Los Angeles in 2003 and New York in 2006. Trina's most current honor was being awarded The Fashion Achievement at the LA Fashion Awards in 2005.*
To find out more, click here
*Text taken from the designer'S official website!
16 juillet 2008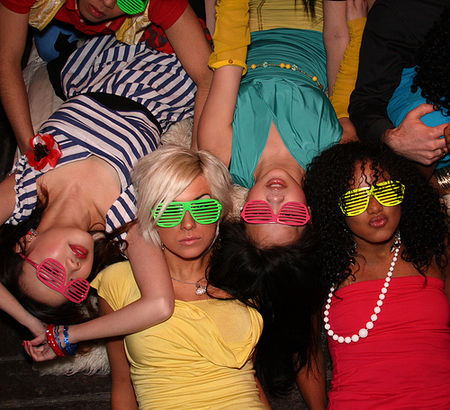 Affordable fun and funky sunglasses @ $25 (shipping included). Check it out here
09 juillet 2008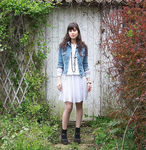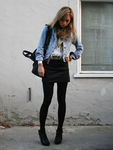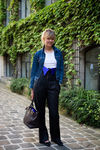 It's baaack! And with a bang! Ok! You probably will argue that denim jackets never really went out of style. And I couldn't agree more; but this time around (unlike during our high school and college years when we used to throw one on for comfort sake), we are jazzing it up grown ladies style. What a I love about a good old denim jacket is its flexibility. Worn over a cute flowery dress or paired with casual pants, you can't go wrong! I hadn't worn mine since college which was 5-6 years ago. Luckily, although I have packed on a few pounds, it still fits. And yours probably does as well if not, fear not. Stores across the nation are carrying this American classic in all price range. No more excuses!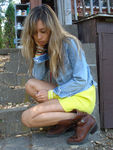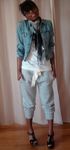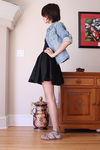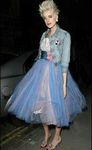 If I may, my advice is to avoid denim on denim! AT ALL COSTS!
Pictures taken from the GREAT fashion diaries of: le blog de betty, fashion toast, l'atelier d'une fée and childhood flames. And also from my every day read, garance doré, bossip and dlisted.
03 juillet 2008
I am looking for the perfect black bag. One which will stand the test of time. It will not be an IT bag and will be made of leather. Soft leather. Buttery. Undestanding of all the baggage that comes with me, it will not mind carrying my load. Besides being a comprehensive perfect black bag, it has to also be forgiving. Forgiving of my wandering eyes as I sadly suffer from multiple purse-onality.
I have come across this one by Lancaster. I like it. I really do. And although I am not in love, I have considered settling for it. The only problem? There is not a single Lancaster store in Montréal.
Good right? We shouldn't settle for less. The search therefore continues. I will keep you posted.
€190 or $305
P.S. Any hook-ups will highly be appreciated.
30 juin 2008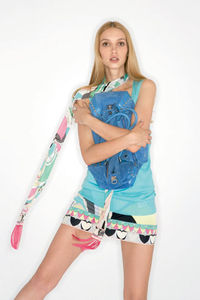 *
Pucci Resort Collection
Summer scarves
I often complain that although I sound a lot like my mom, I don't look enough like her. I wish I was more like her and had her elegance and knack for clothes...and oh so much more. Things that go beyond the superficiality of fashion. One thing I however got from her is her love of accessories and scarves are high on her list. Different lenghts and all sort of colors, she owns a bunch of them and often wears one. So do I. Regardless of the season.
For cool summer days or a cool look, scarves in lighter fabrics are a great way of complementing your summer outfit, instantly adding a chic touch. The buzz is that they are a must this season. But between me and you, this is an accessory that will never go out of fashion.
There are countless ways of wearing a scarf but currently, this is how I am wearing it: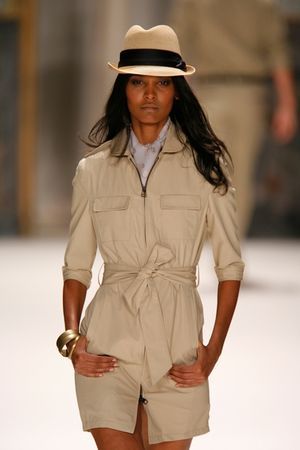 *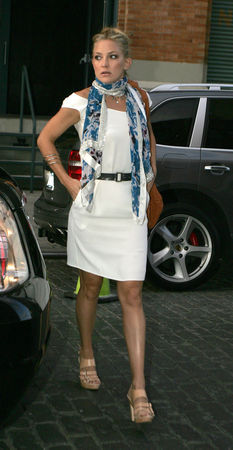 *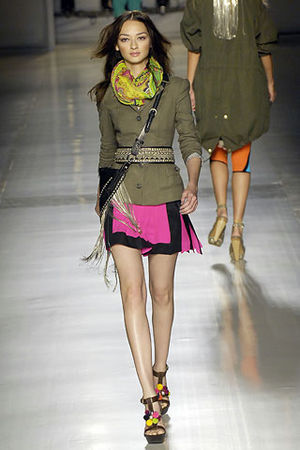 *
---
Get Michelle William's dress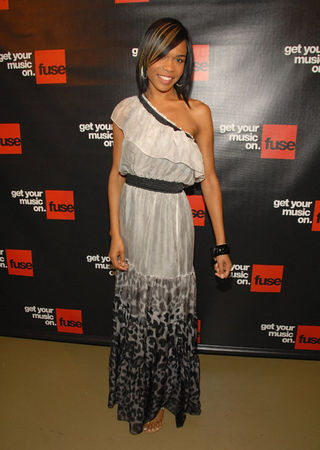 *
Although this one shoulder maxi dress by bebe is pretty cute and not bad on Michelle, it is almost overwhelming her petite frame. This will look better on curvier figures. If that's your case and the dress tickles your fancy, forgo black accessories and opt instead for fun and funky accessories.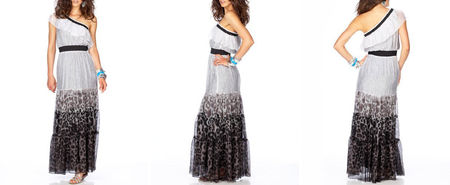 *
You can get it @ $179 by clicking on the image above.
This dress is definitely going to be part of my summer wardrobe.
Speaking of Michelle, here are two looks that were
: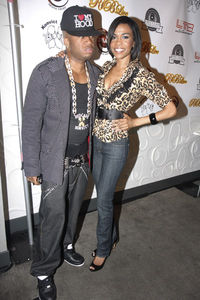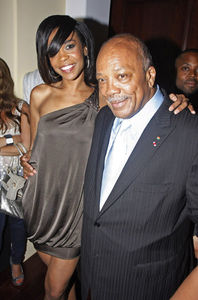 *
---
Stay tuned for our post on maxi dresses...for all shapes and of course with the perfect accessories.
eBay fined $63 million for selling fake Louis Vuitton. Get the story here.
HAVE A GOOD ONE!
*Pics courtesy of Vogue, Bossip, Dlisted and Bebe. *Rag and Bone Spring/Summer 2008, Katie Hudson, Etro Spring/Summer 2008.
26 juin 2008
Avec la chaleur qu'il fait en ce moment, je ne rêve d'une seule chose: c'est de passer un après-midi avec des amis sur une plage d'Assinie-Mafia (Cote-d'Ivoire).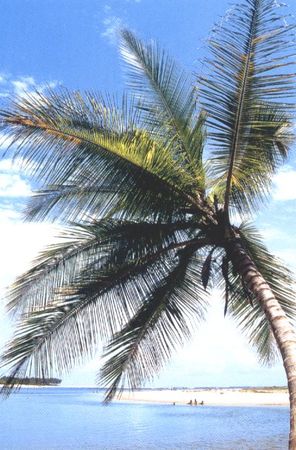 Assinie-Mafia*
Pour cette petite virée sous le soleil, disons que je serai habillée de la sorte, en noir et blanc...Et à ne pas oublier, une crème protectrice, histoire de ne pas trop bronzer!
Je passerai l'après-midi à manger de l'Alloco ( déshabillé de plantain à l' huile dorée ), à feuilleter des revues, à jouer au Volley et bien sur à me baigner ( je veux dire juste mettre les pieds dans l' eau ...lol ). Après une telle journée,une fois rentrée à la maison je dormirai pendant des heures et des heures.
*photo courtesy of azmibazar
25 juin 2008
This couple just epitomizes it all: glamour, fame, love, healthy kids...we don't know what goes on behind close doors but don't they seem to have it all? Simply put, Will and Jada Smith are a grade A couple. Here they were earlier today at a fundraising dinner. The dinner is part of the 3 days birthday celebration for my adopted grand-father: Nelson Mandela. Happy 90th birthday Madeba!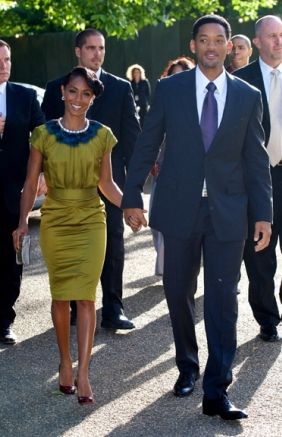 I love Jada's dress, the color is to die for. Will -a.k.a Mr. Fafa- is so yummy. It's ridiculous. I love his navy suit.